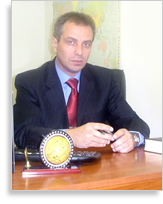 Dear Ladies and Gentlemen,
I have the pleasure to welcome you to the global office of TRIMONIUM Ltd, Bulgaria - recruitment and headhunting specialist for in country and abroad.
We started our company in the knowledge that there are a lot of educated, qualified and motivated people in Bulgaria in all fields of the economy.
We have set ourselves the ambitious task to establish a company that adheres to all international recruitment standards and practices which places Trimonium as the company of choice for all international and national recruitment.
Being lead by the conviction that loyalty and honesty in relationship are of prime importance for each party, we created an open and transparent system. It gives everybody the chance of an active and equal participation in the whole process of the recruitment.
Looking at our structure you will find that we have created mechanisms for adequate professional recruitment, permanent control of processes, and 24-hour-service.
We wish you all the best

Truthfully yours,

Emil Hristakov

Managing Director of Trimonium Ltd.